The Hepsia Control Panel now has a mobile version!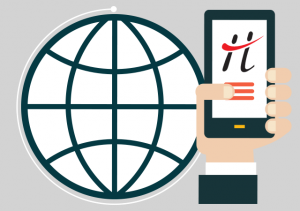 Today mobile phones have become more than just devices for communication - they have become pocket size computers, increasing our mobility and productivity by a large margin. Today we can do so much from our phones - from ordering food and catching a ride, to paying our bills, access online banking and even board airplanes at airports. It is only natural that we should be able to manage our personal or business online presence from a mobile phone.
That's why we are happy to announce, that from today all iClickAndHost customers will be re-directed to a mobile version of the Hepsia Control Panel when they need to access their account admin panel while on the go.
The Hepsia Control Panel mobile version, is not just mobile-optimised web interface, but rather a brand new solution, developped from scratch. The new solution took months of development and testing, before being rolled out live.
Differences between mobile and desktop versions
The Hepsia Control Panel which you are familiar with is jam-packed with features and functionalities. It is a powerfull tool for complete management of web hosting accounts and websites. It is user-friendly for beginners and in the same time carries a lot of powerfull tools and controls for advanced users, like enabling the free VPN acces, accessing ssh, restoring backups, editing files and working on code directly onto your live websites, deploying NodeJS instance, activating server-side caching and so much more.
To make this feature-rich control panel fit properly onto the smaller phone screen, the development team had to filter out about 30% of the controls.
The team had to weigh out all the functionalities in Hepsia's arsenal and pass only the ones which are relevant fpr using on a mobile device.
As a result, our customer will get all the crucial site and account controls, wrapped in a lightweight, mobile-user-friendly foil:
Main sections of the mobile version of the Hepsia Control Panel
Once you log-in to the Hepsia Control Panel from a mobile device, you'll be taken to the index page. From there you get instant access to all major sections via quick launch icons – Domains, Emails, Files, FTP, Databases, Apps, Advanced and Stats.

Here is a short overview of each one of them:
Domains – the mobile Domain Manager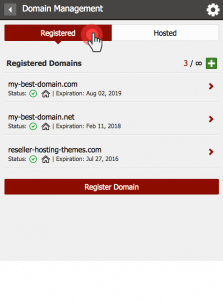 The domains section in the mobile Hepsia is split into two categories : registered domains and hosted domains.
In the Registered tab, you can see all the domain names that you've registered or transferred through iClickAndHost so far and you will be able to see at glance their status and their expiration date. Clicking on a domain will give you a a list of all the applicable controls, like Edit DNS settings, Edit Whois, Redirect domain, etc.: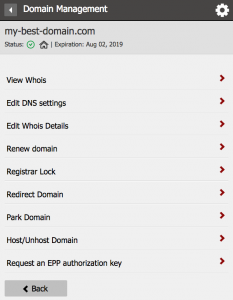 If you clkck on the Plus icon in the upper right corner, you can quickly register or transfer one or multiple domains.

The streamlined domain registration wizard looks like this: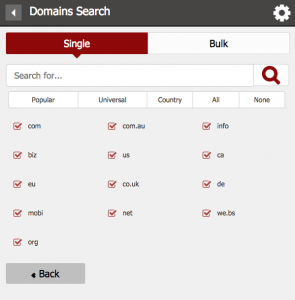 If you have domains which are not registered or transfered with iClickAndHost but are only pointed to our name servers, clicking on the Hosted tab will give you a list of those. as well as icons indicating their DNS and SSL status: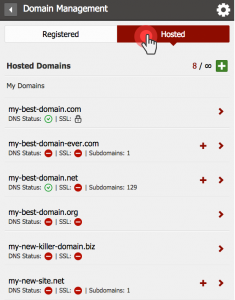 Even if your domain is not at our registrar, the Hepsia Control Panel still gives you plenty of controls. Here's what the Edit host section looks like on a mobile device: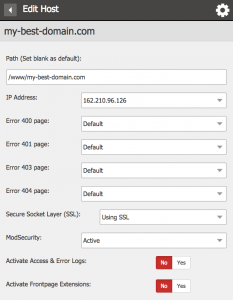 Email – the mobile Email Accounts Manager
The Email Manager in the mobile version of the Hepsia Control Panel will give you all of the controls that you are already used to. You can quickly create a new mailbox, edit an existing one, add or edit email filters, set up email forwarding, control the strength of the SPAM filters, etc.: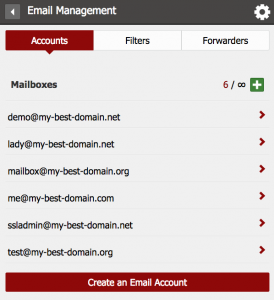 Files – the mobile File Manager
One of the strengths of the desktop Hepsia Control Panel vs. the competition is it's file manager, as file management is essential for any website owner. This is why, we have incorporated most of the features offered by the regular File Manager into the Control Panel's mobile version.

This way you can quickly upload a new photo, quickly edit a file, copy a folder, move a website from one directory to another, and much more: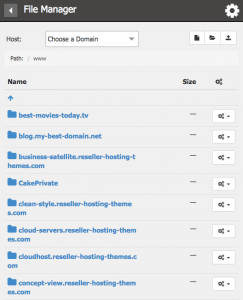 Databases – the mobile Database Manager
Databases are the core of every website and database management is just as important as file management.

This is why we have implemented all the controls offered by the regular Database Manager in the Control Panel's mobile version, so that you can have full control over all your databases from any location: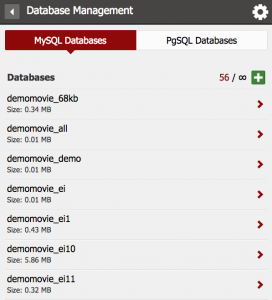 FTP – the mobile FTP Account Manager
Like in the desktop version of Hepsia, you will have full control over all your FTP accounts and you can quickly create new or remove existing FTP account whenever you need to.
Yes, you can even manage your web applications via the mobile Hepsia Control Panel! App installation is just as fast as it is with the regular App Installer. Again, no setup will be required from you – simply point where you want the new app to be installed and enter the admin username and password – we will handle the app installation and the database setup for you.

An advantage of iClickAndHost is that we support a large number of PHP versions and through Hepsia you can select the PHP version that you need to run on your web hosting account and edit your custom PHP.ini script. The fully featured PHP Configuration section allows you to quickly change the PHP version for your account or to make quick changes to the php.ini file. More advanced options will be added to the mobile control panel in the following months.
Analytics and Reporting tool

You can check what is going on with your websites in real time – how many visitors you have, where they came from and how they got to your website. We have several updates planned for the Stats section, so stay tuned!
Stay tuned for more improvements!
We hope you will enjoy and will take advantage of the mobile version of the Hepsia Control Panel.
With the ability to access your Control Panel through your mobile phone we want to give you greater freedom in managing your web sites and be in control of your web hosting environment.
Stay tuned for more updates rolling out in the near features. You know we like to keep ourselves busy and constantly improve our cloud hosting environment.