We have completely revamped our line of dedicated servers
We have just completely overhauled our dedicated server offers so you can now have a broader choice of physical private server solutions when you need a lot of power and dedicated resources for your websites and applications.
Four times more servers and storage customization options
After a thorough analysis we are happy to announce that now we are extending our line of dedicated servers by four times. Now we are happy to offer a total of 11 server configurations, and each server configuration now has the option for storage customization. All servers can now have only SSD, only HDD or a combination of SSD + HDD.
Due to the strong interest in the entry-level Atom series, we have added 2 more Intel Atom configurations offering higher CPU and RAM allocations.
The two existing AMD Opteron-based dedicated server packages feature the same hardware parameters, but now boast much more affordable prices and storage configuration options.

Also we have added 6 brand new SSD-equipped, Intel Xeon-powered server configurations for users who need more juice for their projects. Depending on your needs, you have now a wide variety of CPU + RAM options.
Fully customizable hard disk bays
You can configure the type of disk you'd like to have in each bay of your dedicated server. Up to 3 bays are available and you can select your primary (OS) disk - SSD or HDD and up to 6 additional storage disks - again SSD or HDD.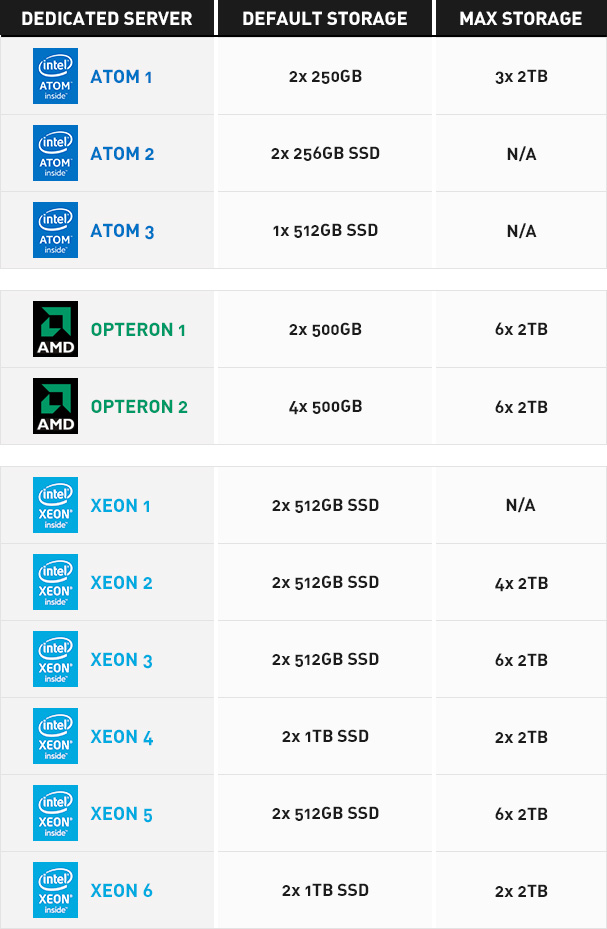 Guaranteed service
All dedicated servers offered by iClickAndHost come with our standard 99.9% Uptime Guarantee, 1 hour maximum response time is guaranteed around the clock, rain or shine. Your dedicated server will be installed and switched on-line quickly at no additional cost.