.WEBSITE .SOLUTIONS and .SERVICES now open for registration
We have been busy as usual and we have the pleasure to announce the latest generic top level domains (gTLD) which we added to our registrar and are now available for registration and transfer for end-customers.
It was beginning to seem like all the best web addresses had been taken and becoming more difficult to find that perfect domain for your business. Since ICANN announced the addition of the new style of domain names which are highly brandable and customizable we commited to get accredtted for as much of these as possible to our registrar so our customers can benefit from our low domain registration and transfer prices and can keep them in their favourite Hepsia Control Panel.
Just recently we have added .WEBSITE, .SOLUTIONS and ,SERVICES to our registrar.
Why register a .WEBSITE domain name?
With .WEBSITE, website owners now have the ability to register a universal domain name that naturally suits the context of the Internet and is globally recognized.

Also, since the extension is new, site owners now have the opportunity to register first-choice, short and easy-to-remember domain names that will be recognized worldwide, as most of the short .com, .net and .org domains are already taken.
The .WEBSITE extension is perfect not only for any personal website if a .COM is unavailable and can also do a great job for websites offering web design or web development services.
Why register .SOLUTIONS or .SERVICES domain names?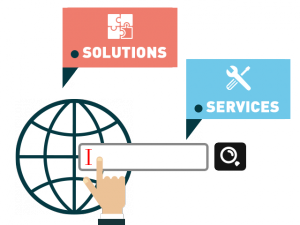 These two recently launched TLDs provide a dedicated namespace to companies and individuals offering professional services.
These are highly brandable and customizable domain names, which can target website visitor very well by sendind a direct message about the website and its content.
Here are a few examples for a good use of .SOLUTIONS:
consulting companies and firms aiming to increase the visibility of their business
businesses whose brand names contain the word 'Solutions' and thus bear direct reference to their very purpose
DIY and how-to blogs
educational websites offering help guides, video tutorials and other content
FAQ and help center sites
Just like .SOLUTIONS, .SERVICES is a new TLD with a huge potential. It could be a top choice for a large number of domain owners – individuals, groups or organizations, offering various services across the globe.
Here is a list of the entities that could benefit from .SERVICES:
businesses offering hospitality, consulting, financial, real estate, repair, etc. services
businesses whose brand names contain the word 'Services' and thus bear direct reference to their very purpose
Who can register these domain names?

Due to their global and universal purpose these domain names are open for registration to anyone for a period of 1 to 10 years. The registration process is quick and simple, just like with a .com for example, with no specific requirements to follow.

.WEBSITE, .SOLUTIONS or .SERVICES domain names that have been registered with another registrar can be transferred over to iClickAndHost for the same price. An EPP key is required for the transfer to be completed successfully.

With iClickAndHost the price for registration and transfer is always the same as the price for renewal. So if you register your domain at a certain price, you can be sure that next year when it's time to renew it - the price will be the same. We never do those type of deals, where a domain is offered at a low price but then it must be renewed at a price which is much higher than the average market price and the customer is not allowed to transfer it away. Also with iClickAndHost you are always free to transfer your domain away - you are the sole owner of the domains you register and transfer to our registrar. EPP codes are generated automatically so you will not have to wait for someone to send you the EPP, as we know some registrars intentionally delay the EPP codes.

Check out our regular domain registration offers - we always keep the domain prices low!
Register .COM, .NET, .US, .EU and .CO.UK domains for just $9.99/year.

.ORG and .INFO for just $10.99/year

Check out all domain registration offers here.