Introducing Cheaper SSL Certificates and SNI Support!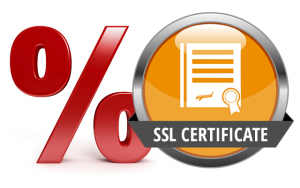 In line with today's trends, the demand for SSL certificates has growin higher and higher. Web masters are looking for ways to increase trust and security between the end-users and their websites. Especially after Google announced that having an SSL certificate will be a positive ranking signal for websites, the global demand for SSL certificates has doubled.
In order for us to be able to be more competitive and to be able to offer our clients better quality for the lowest possible price, we have switched our SSL certificate provider and we are happy to announce that we are able to offer cheaper SSL certificates, with a price tag up to 52% lower than before!
The new SSL Certificates we are issuing use 2048-bit RSA keys with 256-bit encryption.
They come with a strong authentication warranty, an authentic site seal and free re-issue & money-back guarantees.
The new cheaper SSL prices are between 21% to 52% lower than before.
Starting from just $19.99 / year for a generic SSL Certificate.
Save money with iClickAndHost - no dedicated IP needed for SSL instalation
In orther to further accomodate the increased SSL demand and to help our customers save even more money, we have implemented SNI (Server Name Indication). This removes the need of an additional dedicated static IP for the implementation of the SSL certificate, which would usually cost extra per month.
New low price for SSL certificate renewals
Existing SSL certificate customer will benefit from the price drop as well! When your existing SSL certificate is due to be renewed, the actual SSL renewal will take place several days prior to the expiration of the current SSL certificate.
Purchasing and installing SSL certificates in the Hepsia Control Panel
Installing an SSL to your website with iClickAndHost is very easy! Everything can be accomplished with just a few mouse click from within your Hepsia Control Panel and it takes just a minute.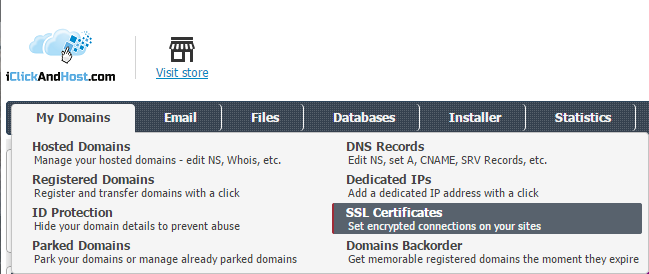 If you already have SSLs set for a domain on your hosting account it will be listed here. You have the options to view the CSR record, the Private Key record and the Certificate itself. If you don't have SSL yet or you would like to purchase one for another domain within your domain go to "Order SSL Certificate. You will be provided with an order form, where you can select the domain, fill in the certificate owner details, website details, select the configuration options and from there the SSL will be issued and installed automatically.
Not yet an iClickAndHost customer?
Sign up today for fast and reliable web hosting with SNI support!